Homer Soda Company
Hosmer Peach Soda in the glass-bottle!
Available for wholesale distribution and private events (weddings, office parties, BBQ, the list is endless!)
Email sales@homersoda.com for current prices.
Since 1912, Connecticut's Hosmer Mountain has been bottling a delicious array of lightly carbonated sodas that are not too sweet. Made with micro-filtered, naturally pure water, Hosmer Mountain sodas have been a New England favorite for decades.
Hosmer History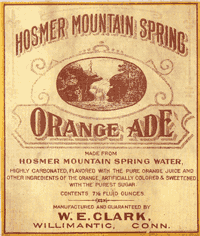 Hosmer Mountain Bottling Co. was purchased in 1958 by Arthur J. Potvin from Mrs. Fred Meyer, whose husband had passed away the previous summer. The Potvin's then became the fourth family to run Hosmer. With the help of his wife and two eldest sons: Bill and John, Arthur began the arduous tasks that make the soda business a difficult one. He worked hard at keeping the machinery operational and the trucks on the road, blending the soda varieties, and keeping the customer happy. He learned how to make good soda with the help of a salesman and through trial and error. All soda was made with bagged sugar in those days and dry ice was converted to gaseous CO2 for the carbonation. All cases were wooden and bottles were all heavy refillable glass bottles. Two more sons, Andrew and Chuck, joined the operation in the late 60's.
Early changes included getting a company logo (the shield that is still used today) and going to reusable fiber cases. However, the use of glass bottles has remained constant. Many of the same flavors are still available today along with the addition of diet beverages, seltzer water, and some new trendy drinks.